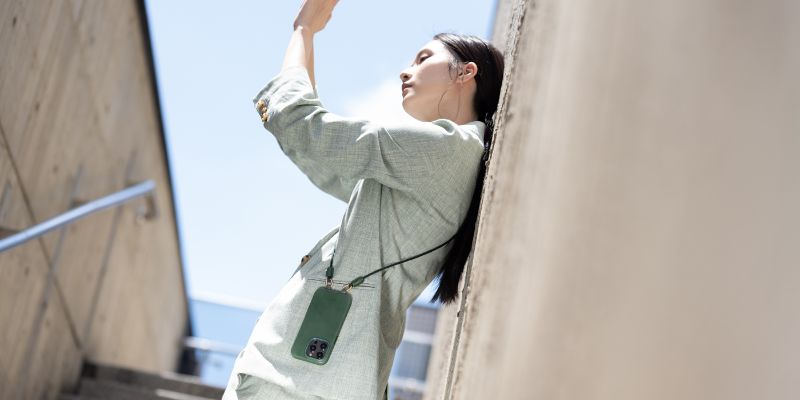 Are you keeping up with the trend of freeing your hands?
After a long stay in the city, people tend to go to nature increasingly. This pattern has led to the rise of the Outdoor trend in recent years. Fashionable clothing, camping and hiking, life spirit, outdoor equipment and the functionality of the equipment have all naturally become a necessity. The mobile phone lanyard has also emerged as a product of this trend. This year, major mobile phone case brands have launched lanyard-related accessories in a variety of materials such as fabric, nylon and metal, with a rich diversity of styles.
Alto has launched Anello lanyard mobile phone case in the past, but the length of the strap is fixed, and it can only support neck hanging and one side shoulder carrying. Although the wide strap design can moderately reduce the burden, in the face of the increasing weight of the mobile phone, we inevitably reflect on how to change the design in order to make it more comfortable for everyone to use. Therefore, during the development of the lanyard, we have given a lot of thought to the material and usage of the lanyard, in the hope that it can be distinguished from other products in the market, and that the leather of the phone case will not look awkward, and that the overall matching will be stylish and convenient.
As you can see, Alto's new lanyard (shown below) can be adjusted from 52-84 cm in length, allowing you to switch between shoulder and neckwear at any time. It is made of the functional 7 layers of nylon, like braided hair, which is extremely light and highly flexible, ductile, and durable, and also because of the characteristics of nylon material, the lanyard features high air permeability and quick drying, and is not easy to moisture and mold.
Alto decompression lanyard itself has another name - "paracord", which is an important outdoor survival tool, originally as the parachute device used in maneuvering rope, and later in the military forces of various countries as the standard practical rope use. After testing, the rope can withstand 550 pounds of tension (this refers only to the rope, not the lanyard itself), also known as 550 paracord.
In addition, we've made it easy to replace everything with a mobile phone extension clip. The dual-ring gasket is exclusive to the Alto iPhone 14 series phone cases; the single-ring gasket can be used on older Alto cases and some other phone cases that are fully covered, giving more options to those who want to purchase a lanyard alone.